Welcome to DVAP, Home of Impossible to Find Classic Cars and Car Parts from the 1940's, 50's, 60's, 70's and Even a Few 80's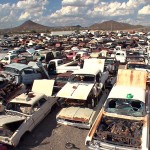 Founded in 1993, Desert Valley Auto Parts has become famous for its 40 acres of whole cars and parts of cars many collectors thought could never be found. Operated on two lots—a main facility in the Deer Valley area north of downtown Phoenix and a second facility south of Phoenix in Casa Grande, AZ—"DVAP", as it's affectionately called, is truly a gem literally known the world over.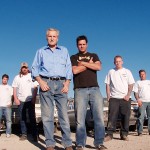 In 2011, DVAP's notoriety skyrocketed beyond the ranks of specialty collectors and car enthusiasts when the Discovery Channel introduced the rest of the world to Desert Valley Auto Parts with a show all about DVAP, called Desert Car Kings.
What amazes and impresses customers is that the amount of classic car inventory on both DVAP lots is so vast that items are still being sorted! In fact, not every car and car part has been able to be inventoried online yet. The selection is that huge and DVAP's acreage that massive. So if you do search this site's online inventory and don't find what you're looking for, don't stop there. Please fill out the Request a Part form. The staff at DVAP loves cars, but even more so they love a search challenge. DVAP's team will scour the yards. You'd be amazed what has been found for customers. Not only that, owner Jason McClure tirelessly searches the land for classic cars hidden away and acquires them for the yard — so not only is DVAP's current stock not fully online, it keeps growing. That's why it's strongly recommended that if your online search on this website doesn't produce results, you next use the Request a Part form or call DVAP at 800-905-8024.
The DVAP Guarantee
Anyone who builds classic vehicles knows that Arizona enjoys a reputation for offering the cleanest sheetmetal and chrome around. And while that's true, it's important to make sure you know what clean means when it comes to salvage. Let's confirm what clean really means:
Clean does not mean new.
Clean does not mean perfect "10" condition.
Clean does not mean free of imperfections such as dings.
Clean does not mean a part you won't need to put a minute's time into.
If you understand what clean really means, you are not a novice and you'll be very happy with our selection. Remember, DVAP sells used auto parts, parts that are in most cases over 25 years old. If somebody tells you a 25+-year-old part is mint, cherry, perfect or flawless, you should be skeptical. They're most likely exaggerating.
You'd be surprised the amount of requests DVAP gets for mint condition parts. While DVAP is proud to be considered the best in the classic vehicle salvage industry, they got to that reputation through honesty, not false advertising.
In short, DVAP proudly sells classic used parts and quality classic used parts.
DVAP Return Policy
You can expect to receive your part(s) within 14/25 business days from the date your order was placed and then confirmed by you (NOTE: If we feel there may be some quality issue process time can be delayed in order to provide photos if needed DVAP is not responsible for further time needed to provide this service) . If the part(s) you ordered are a cut, re-chrome or shopped order, please allow up to 30 days for delivery.
Please inspect your shipment(s) as soon as it is/they are received. In the event there is damage, DVAP requires digital photos of the damage in order to file any sort of claim. If the part sent was incorrect, DVAP reserves the right to replace the part, without any cancellation. DVAP does not accept returns on any items after 30 days. TERMS ON SHIPPING Please remember that we will provided  a shipping "estimate", that this is only an "estimate" for pricing on a commodity and  is subject change daily due to fuel costs. If the parts you have ordered are to be cut, re-chromed, serviced, or repaired by our shop then please allow ample time for outsourcing. Should you require a return of your parts you must acquire a return authorization number to do so. All returns and cancellations may be subject to 20% restocking fee. There will be no returns on any item that is a cut or special order and no returns after 30 days.
Deposits made on whole/project car purchases are non refundable and whole/project cars are sold as is with no returns or refunds or warranties made on quality.
Hours of Operation
Monday-Friday 7:00am to 4:00 PM
Saturdays 8am-2pm
Closed Sundays
Please call for holiday hours
Pricing Structure
When pricing via phone or email our prices are "al a cart", for an example a price on door is just the door "shell" (no parts on or inside of the door) unless requested as a "loaded" door. The reason we have this noted is often photos are requested prior to shipment and we are able to remove, strip and prep to send images of any given item with out part being paid for in advance, as a result a photo is often taken of a part(s) as it is still on the car. Since items are then seen with parts still attached a customer may mistakenly assume they are getting everything in the photo which is not the intended result when viewing example photos we send a customer on request. If planning a trip after viewing web site its best to call ahead to make sure listed item(s) are still in stock.